Donations in favour of the emergency in Ukraine, the methods for the donations
02/03/2022

To support the people who are living the drama of war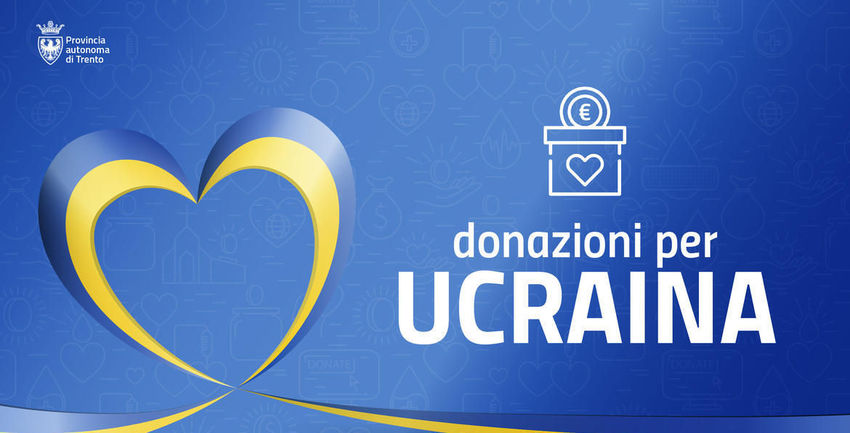 The Trentino community, which has already shown its closeness to those who live in situations of need on other occasions, now has an additional tool to offer its help. As announced, the possibility of making donations in favour of the emergency in Ukraine has been activated, to give support to the population of that country who is living the drama of war. This initiative is in addition to the interventions that are being activated in these hours, both nationally and locally, including through the Civil Protection structure.
Donations for Ukraine can be made in the following ways:
1) through the Mypay payment portal
- click on the link: https://mypay.provincia.tn.it/pa/public/richiestaPagamentoSpontaneo.html?codIpaEnte=P_TN&codTipo=UCRAINA
- Enter the data required by the system. After entering all the required data, click on Add to cart.
- The system sends you an email with instructions to continue with the payment: click on the link in the email and you get to the page that summarizes the amount of the payment due following the request for the service of your interest.
- In the summary page you'll find the data of the payment
- Now you can choose whether:
A. print the notice that you have created, related to the payment of the requested service, and pay by going to one of the indicated counters or through CBILL
B. pay online through the portal https://mypay.provincia.tn.it/pa/home.html
This method involves the payment of a commission based on the payment channel used.
2. By direct payment to the treasury account of the Autonomous Province of Trento, at the counters of the Treasurer UniCredit S.p.A. and of the Casse Rurali, specifying the following codes:
BRANCH CODE: 5079
INSTITUTION CODE: 400
CAUSATION: Donazioni per Ucraina
This method does not require the payment of commission
Published: Wednesday 02 March 2022 - Last modify: Friday 04 March 2022
torna all'inizio del contenuto