Trentino and Ethiopia, the strength of mountain lands
02/05/2023

Councilor Bisesti greets the delegation from the country featured in this year's Trento Film Festival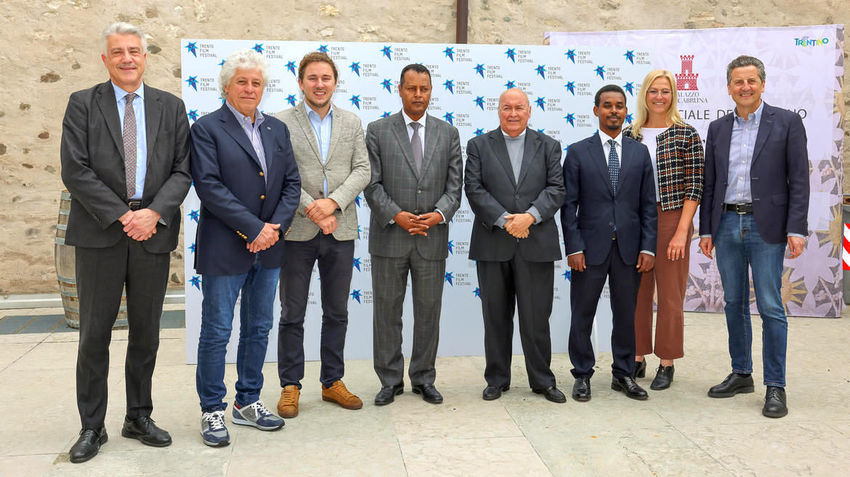 "It is a pleasure to have you in Trentino. Yours is a visit that strengthens the knowledge between our peoples and the common feeling of the mountain lands. An occasion for which we thank the Trento Film Festival, which also in 2023 confirms the audience's appreciation and its ability to render a broad, lively look at the themes of mountaineering, sustainability and society, without forgetting the topicality of the problems affecting the planet. An event that makes our territory grow through the extraordinary added value of culture, deeply linked to the mountains for its ability to give wide visions and horizons." So said Provincial Councillor for Culture Mirko Bisesti, who together with representatives of the territory greeted the delegation of the Embassy of Ethiopia at Palazzo Roccabruna. It is precisely the Horn of Africa country, the "highest" nation on the globe with its average altitude of 1,330 meters above sea level, the fourth highest capital in the world, Addis Ababa, at 2,355 meters, and the 4,533 of its highest peak, Ras Dascian, that is the protagonist of this year's "Destination" section of the Trento Film Festival.
In the audience, in addition to Bisesti, were Assefa Abiyu Shirango, deputy ambassador to Italy of the Federal Republic of Ethiopia; Dessalegn Mekonnen, first secretary of the Embassy; Mauro Leveghi, president of the Trento Film Festival; Giovanni Bort, president of the Trentino Chamber of Commerce; Via Calepina secretary general Alberto Olivo; and Trentino Marketing CEO Maurizio Rossini.
The delegation's visit was an opportunity to strengthen ties with the Trentino region and to promote Ethiopia as a tourist destination, as shared in the meeting staged on May 1, also as part of the Festival.
The Destination Ethiopia review counts in the program of the 71st edition on 13 films, 2 exhibitions, a dozen events and several workshops. Appointments that have as their common thread the Horn of Africa country, with its crises and problems (see the conflict between the Ethiopian government and the Tigray People's Liberation Front, the subject of the armistice signed in November 2022), but also its extraordinary nature and the communities with millenary traditions that animate it.
Published: Tuesday 02 May 2023 - Last modify: Friday 05 May 2023
torna all'inizio del contenuto