2023 agricultural season in Trentino, job applications now open
12/06/2023

You can apply for job in the period July-October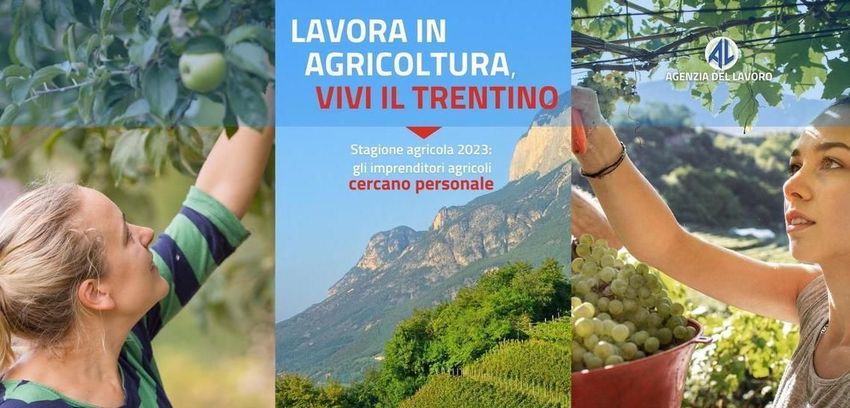 Agenzia del Lavoro is responding to the need for employees in the agricultural sector in the province of Trento by launching once again this year's supply and demand matching campaign "Work in agriculture, live in Trentino" aimed specifically at collecting applications to work in the agricultural sector. The initiative, aimed at boosting employment in the sector for the July-October 2023 season, offers interested workers work experience in the various areas of the agricultural world - from fruit picking and grape harvesting, to the cultivation of fruit orchards and vineyards, from small fruit production to cattle breeding and care - immersing themselves in the splendid natural setting of Trentino. The campaign, promoted by the Agenzia del Lavoro (Employment Agency) in collaboration with Confederazione Italiana Agricoltori, Confagricoltura, Coldiretti, Associazione contadini Trentini (Trade Associations of Agriculture), the Ente bilaterale agricolo (Bilateral Agricultural Body) and the trade unions, was set up to respond to the difficulties expressed by the agricultural world in the search for seasonal workers, encouraging the supply of regular and qualified work.
Workers will be able to apply for the profiles most in line with their experience in the sector, and farms will be able to request employees with the support of the specialised operators of Agenzia del Lavoro and the trade associations. In this year's application campaign, particular attention will be paid to young people seeking seasonal opportunities in the sector, as well as to attracting labour from other regions.
How to apply
People interested in working in the sector can fill in the application form following the instructions provided on the Agenzia del Lavoro website, or contact the Job Centre in their area for support in the procedure. The application will be notified to the trade associations, the bilateral body and the applicant companies and will allow contact with various employers.
How to apply for personnel
Agricultural entrepreneurs can request the names of available workers by filling in the form available on the dedicated page on the Agenzia del Lavoro website and following the instructions for sending their request for workers.
For further information:
Dedicated page on the Agenzia del Lavoro website
Published: Monday 12 June 2023 - Last modify: Tuesday 20 June 2023
torna all'inizio del contenuto